The Learning Ladder II

A reading and writing curriculum for Family Child Care Providers, Children and Families
Family Projects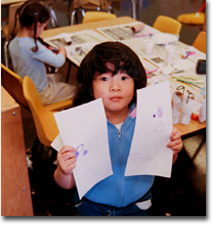 Each time you complete one of the projects below you are doing important work. You are helping parents feel part of the work you do in your program.
These projects will help families understand the importance of their involvement in the work of your family child care program. At the same time they will support the fine work that you do all year.
Creating Program/Home Memories
Provider/Parent Activity: Collecting Family Recipes.
Write a letter to the parents of the children you work with and tell them that you are creating a cookbook. Tell them that sometimes children don't like certain foods, so you are creating a book of foods that the children in your program like to eat.
Have parents ask what their child's favorite home-made meal is.
Ask parents to include the recipe and the steps for how the meal is made. While parents write down the information, suggest that they ask the children to name some of the ingredients. An example letter is available.
After parents return the recipes, put them in a cookbook form with one recipe on each page. Make sure you include the children's and parents' names. Have the children draw pictures for it.
Make copies for everyone to bring home.
Creating Family Friendly Programming
Provider/Parent Activity: A Family Friendly Calendar
Create a calendar with large boxes for each day. For each week, develop fun and simple activities that parents can do with their children at home. If you can, try to develop activities that relate to the curriculum you are using in your program. For example, in my program, we are covering the theme of winter. This is a sample week from my calendar:
| | |
| --- | --- |
| Monday | Take a winter walk with your child. Point out the things that you see that belong to winter. For example, "Look at the snow on the tree." |
| Tuesday | Drink hot chocolate together. Put in little marshmallows and talk about floating and sinking. |
| Wednesday | |
| Thursday | |
| Friday | Draw winter pictures, using black paper and white crayons. |
If you make the calendar on a computer, make sure that you save it in your disk portfolio so you can make changes each week.
Forming Partnerships
Provider/Parent Activity: Creating a newsletter
Some family child care providers find it helpful to use newsletters to share information about what is happening with the children during the day while they are in your care.
1. Take a few minutes to remember the kinds of things that you did in your program over the past month.
2. Use a prewriting activity to help you get your ideas down on paper and organize.
3. After you organize your ideas, write at least 3 paragraphs, describing the things that you did in your classroom recently.
Be sure to include as many of the children's names as possible.
Be positive and use adjectives to describe what you did. For example: "One of the very popular play activities this month was with a big, red ball. The children..."
Think of titles that will get the attention of parents and interest them in reading.
4. Use this opportunity to tell parents about things that are going to happen at your program in the future. You can also let parents know what you need from them too. For example: help with field trips, donations of equipment, assisting with art materials etc.
5. An example of one possible design for a newsletter is available. A Word 97 version of this newsletter is also available. Make sure that you save what you wrote in your disk portfolio so you can make changes if you need to.
6. Before you send the newsletter to parents, show what you wrote to your tutor.
Congratulations! You completed Module 3!


Congratulations! You finished Module 3. Try the next module.
---
---