The Learning Ladder II

A reading and writing curriculum for Family Child Care Providers, Children and Families
Forming Partnerships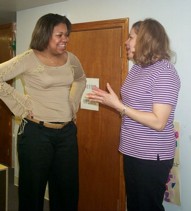 All of your family child care parents need lots of support from you and information so that they can feel secure that their child is safe, happy, and developing while they are with you. One of the best ways of building a good relationship with your parents is to make sure they understand how your operate your family child care program.
The best way to make sure that parents who are new to your program have the information that they need is to have a meeting or orientation with them before their child starts coming to your family child care home. Here is some of the information you will want to discuss:
Your philosophy of child care and children's development
What you do about discipline, naptime, toilet training and mealtimes
The hours you do and don't provide care
Your fee or payment schedule, including late fees
What you do when a child gets sick or has a medical emergency while they are in your care.
Family Child Care is a business and most providers find it helpful to share information with parents about their practices and policies in writing.
Did you finish? Then, go to the activities for Part 2.
---
---