The Learning Ladder II

A reading and writing curriculum for Family Child Care Providers, Children and Families
Family Friendly Programs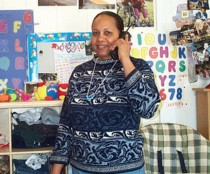 The daily life of many families is different today than it was 20 or 30 years ago. Adults have to work harder to meet the needs of their families and their jobs. Family members don't have as much time together as they did before. This is why parents have less time to participate in their children's education and time away from home.
However, when there is parent involvement in a child's program and parents become active partners with providers, there are many benefits. These benefits include:
parents and providers can support each other more
a provider gets information about a child's life at home so she can provide better services to children and families
parents can support learning at home
children increase their self-esteem
Finished the reading? Go to the activities for Part 3.
---
---