(* set h_content
The Learning Ladder II

A reading and writing curriculum for Family Child Care Providers, Children and Families
Family Projects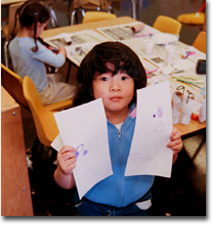 Each time you complete one of the projects below you are doing important work. You are helping parents support their child's emergent literacy.
These projects will help families understand how important it is to read and write with children. At the same time they will support the good work that you do every day.
Family Child Care Provider/Parent Activity
Teacher/Parent Activity:
Create a program to home book bag. This activity is developmentally appropriate for older toddlers, preschoolers and school aged children.
Materials: A canvas bag, a paperback copy of the book Bedtime for Frances by Russell Hoban, manila paper, a small package of markers or crayons, and a page of written instructions for parents.
Read the book Bedtime for Frances. After you are finished reading the story, tell the children that you want their help. You want them each to bring a special book bag home so that they can read the story with an adult. Then they need to come back to your program with a story about their own bedtime routine. Also ask the children to bring a picture of themselves going to sleep in their bedrooms. Explain that everyone will have a turn to show his or her picture and speak about it. Tell the children that an older brother or sister, aunt or uncle, or other adult could help them with this. It doesn't have to be a parent. Some parents will not be able to read to their children, and you do not want to embarrass them.
You will have to:
Type instructions for parents in a word processor. In the instructions, ask them to:

Read the story to their children, and look at the pictures in the book.
Then, together with their child, talk and write down some of the things that they do together to get the child to bed at night.
Lastly, ask parents to have their children draw a picture of themselves getting ready to go to bed.

Make sure that you save the note on your disk portfolio so you can make changes later if you need to. Share the intructions with your tutor and send it home to the parents from your program.

Each day, collect the book bag from the assigned child. During your morning circle time, have the child show the picture he or she drew. Then have the child help you present what his or her parent wrote.
At the end of this activity when all of the children have returned their pictures, put together their drawings for a poster in your library area.

This is an activity that you can do often. When children get to present their work from home during circle time it makes them feel special, like a "star" for the day.
Reading Aloud to Children
Family Child Care Provider/Parent Activity: Ask families for book suggestions. This activity is developmentally appropriate for all children.
Create a note to parents telling them that you are going to buy some books for your program and you want their suggestions.
Type a note in a word processing program. Ask each family to help your library by writing down the titles of their child's three favorite books on a form that you create. To get a copy of the form, which you can print out click here.
Put all these suggestions in a file. When you buy books in the future, you can select a few from the parent lists.
Make sure that you save the note on your disk portfolio so you can make changes later if you need to.
Print it out and share your letter with your tutor.
Then send it home to your programs's parents.

Supporting Writing

Family Child Care Provider/Parent Activity: Send home a note with drawing paper. This activity is developmentally appropriate for older toddlers, preschoolers and school aged children.

Type a note in a word processing program. In the note ask the parents to have their child draw a picture of the people in their family.
Also ask the parents to help the child identify each person in the picture.
Ask each child to bring the drawing in to show the other children if they want.
Create a bulletin board. Put a title on it called: "Our Families" and encourage parents and children to find their children's drawing during drop off and pick up.
Make sure that you save the note on your disk portfolio so you can make changes later if you need to.
Print it out and share your letter with your tutor and send it home to your program's parents.

Congratulations! You completed Module 1!


Congratulations! You finished Module 1. Try the next module.

---