The Learning Ladder II

A reading and writing curriculum for Family Child Care Providers, Children and Families
Reading Aloud to Children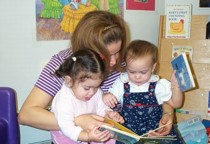 1. Know your book well. Read it aloud to yourself first. Make sure you know all of the words before you read it to the children. Know the story well so you can read it upside down or from the side. This way you can make it possible for everyone to see.
2. Sit the child or children close to you. Make sure all the children can see the pictures of the book.
3. Get their attention. For example, have children look at the cover. Have them guess what the story is about.
4. Be dramatic. Make your voice as interesting as possible. If you can, change your voice for different characters. Speak loudly in some places. Then change your voice and speak very quietly in others.

Video: How to Read in a Dramatic Way
You may view either the RealMedia (".ram") or QuickTime (".mpg") version of this video.
5. Make sounds. When possible, make a sound instead of reading the word. For example, if the word reads "knock", then knock on the back of your chair to make the sound.
6. Get the children involved. Use a child's name for one of the characters. Find other ways for them to participate. Ask them questions. Help them say the repeating phrases. Find places to stop in the story to ask what they think will happen next.
7. With older preschool aged children, point out words in the text as you read. Encourage the children to point to the words too.
8. School aged children enjoy listening to chapters of books and will look forward to having this time with you.
Did you finish reading? Go to the activities for Part 3.
---
---