The Learning Ladder II

A reading and writing curriculum for Family Child Care Providers, Children and Families
Safety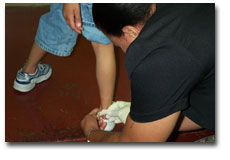 As children learn such skills as walking, running, jumping and climbing, accidents can begin to happen. We can prevent injuries by making sure that the areas of your home that are used by children are organized so that children can move and play freely but safely.
Safety Rules
Another way that we can prevent injury is to ask children for their help in creating safety rules. Use morning meeting or circle time to talk about your rules and to get their ideas. Here are some things you will want to keep in mind:
Talk about the reasons for a rule. Instead of the rule: We keep our hands and our bodies to ourselves, you might want the rule: Because we want to keep everyone happy and safe, children keep their hands and their bodies to themselves.
Find ways to say the rules in a positive way. Instead of the rule: We don't yell, you might want the rule: We use our "inside voices" in family child care.
Make sure the rules have directions for areas in your child care space. For example: Only three children are allowed at the water table at the same time.
Finished the reading? Go to the activities for Part 3.
---
---