The Learning Ladder II

A reading and writing curriculum for Family Child Care Providers, Children and Families
Eating Healthy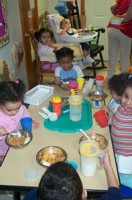 Children need to eat well and get the right food in order to have good health. Good nutrition and diet can prevent medical problems such as developing weak bones or diabetes. It may also stop children from becoming overweight.
A healthy children's diet should include 3 meals and 2 snacks each day. However, their food should not include large amounts of potato chips, soft drinks, sugar-coated cereals, sweet desserts or candy. These foods have very little nutrition in them. We also have to keep children away from foods that may cause them to choke. Some of these foods are peanuts, whole grapes, popcorn, chewing gum and hard candy.
Other suggestions for the best nutrition practices include:
eat and serve a variety of foods;
balance your eating habits with a routine of exercise or physical activity;
choose a diet with a lot of grains, vegetables and fruits;
choose a diet that doesn't have too much sugar and salt.
If you finished the reading, go to the activities for Part 2.
---
---