The Learning Ladder II

A reading and writing curriculum for Family Child Care Providers, Children and Families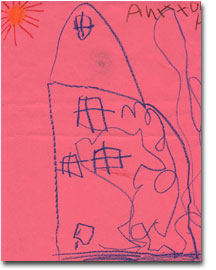 Collecting examples of children's work supports the observation and recording process. When we get these samples of children's work to show a child's learning, we are putting together a portfolio.
A portfolio is a record of a child's process of learning. A family child care provider can use a portfolio to document the work of toddlers and preschoolers. We keep examples of a child's work in a folder or a large flat box, the size of a large pizza box. We save it to keep a record of the child's progress.
It is always a good idea to involve children and ask them to select examples of their work for the portfolio. We want to make sure that the work we collect shows a complete picture of a child's abilities and show his/her individual progress over time.
Because we add children's work to portfolios during the entire year, we should mark the date on each sample we select. We should try to add something to each child's portfolio every two weeks.
It is a good idea to organize the portfolio by category. Here are some of the categories you might pick:
Art activities: including drawing, photos of block creations, collages, samples of letter writing
Math and Science activities: charts of a child watching a seed grow, work samples showing the child's understanding of numbers, stories dictated about how the child thinks that things work
Language and Literacy: stories or poems told and dictated by the child, signs written by the child
Go to the next page to do activities for Part 4.
---
---